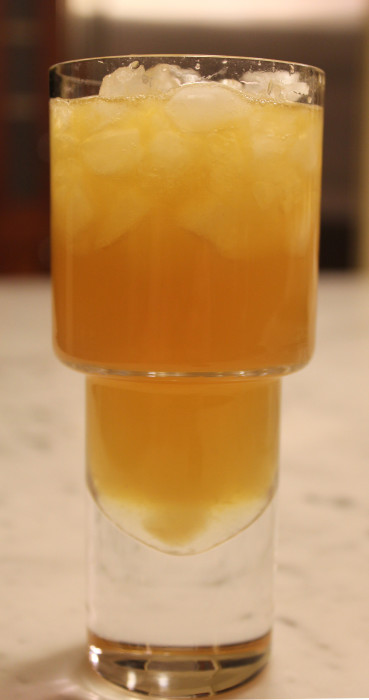 I posted this cocktail a year ago. My wife Suzi loves bourbon and hates ginger. I wondered how this combo would work for her: could bourbon beat out the ginger?
When she took her first sip, Suzi closed her eyes, and then smiled. "This is really good," she responded. "No, this is excellent." Bourbon wins.
Bourbon is so intense, that you need to slip in the side flavors. You may not identify them immediately, but the flavors are there, in the back of your mouth, on the sides, adding notes and character.
This bourbon cocktail is simple: bourbon, citrus juice and ginger simple syrup. The syrup recipe follows below and I think you'll find it useful in a range of cocktails. Start with this one. It is really, really, really good. Even if you are not a ginger fan. In fact, you don't get ginger flavor but you will feel some ginger heat.
---
Bourbon Blast Cocktail

Yield: 1 cocktail

Ingredients:

2 ounces good bourbon [Makers]
2 ounces ginger simple syrup [recipe follow]
Juice of one medium lemon
Juice of on medium orange
Preparation:

Combine all the ingredients in a cocktail shaker already filled with ice. Shake well. Serve into a glass with crushed ice.
Repeat and repeat.
---
Ginger Simple Syrup

Yield: 1 cup

Ingredients:

1 cup water
1 cup sugar
¼ cup crystallized ginger, cut into small pieces
Preparation:

Put the water and ice in a small sauce pan and stir to mix. Turn the heat to medium and, stirring occasionally, bring to a boil. Reduce the heat to simmer and add the ginger pieces.
Simmer for 4 minutes, remove from the heat, cool, and then refrigerate.
---
Source: Brian O'Rourke

Photo Information [Top]: Canon T2i, 18-55mm Macro Lens, f/4.5, 1/50 second, ISO-640

Photo Information [Bottom]: Canon T2i, 18-55mm Macro Lens, f/4, 1/40 second, ISO-800