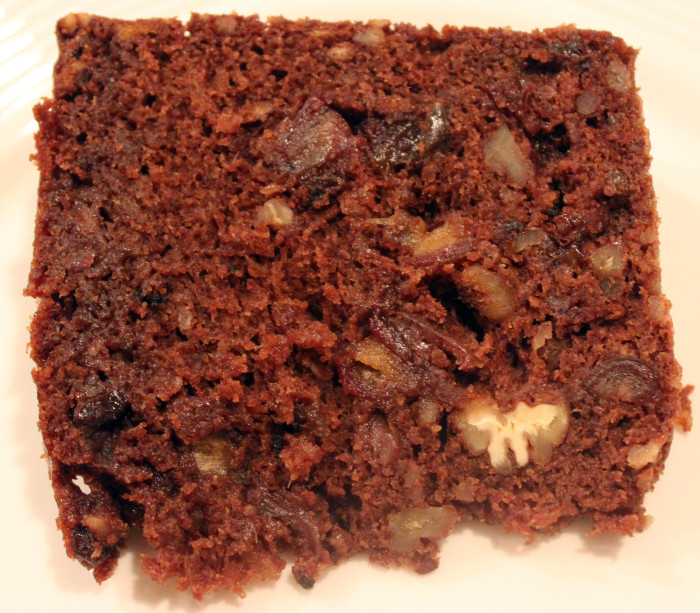 In an earlier Throwback Thursday Cookbook Review, I featured one of the works by an American icon: Maida Heatter's Book of Great American Desserts,
This is a wonderful and important book, as valuable for its headnotes as the recipes. You can get a real survey of American desserts by reading those headnotes and a much more appreciative sense for the evolving history of desserts.
Except perhaps for this dessert. Maida says that Black Cake is a Southern tradition. When I look now on Google, I can find Jamaican recipes and some pound cake recipes but nothing that begins to resemble this cake of hers, with or without bananas. This has more ingredients than any recipe I've ever made before. And the taste? Well, it's as complex as anything I have made either. I like this dessert. I expect you will too. And, you can always adorn it with whipped cream or ice cream to adjust the flavor to your desire.
No matter. You will like this cake. Believe me, you will. It is, of course, quite unlike any cake you might have had. And, I was totally fooled as Suzen and I assembled it. I am a batter eater. I test a cake or cookie at the start by taking a spoonful of the batter before baking. Okay, two spoonfuls, but they are not gigantic spoonfuls, just gracefully rounded. I grew up poor, don't judge me.
So this batter is loaded with spices and mashed bananas and it's really good batter. Really good. A little dark colored, from the cocoa powder, but still tan.
You bake this for a long, long time: 2 ½ hours. And I have never seen such a transformation in my life. There is no trace of banana. And there is no lightness. This cake is dense and a pure dark brown. When it says below you can get 25 slices from this one recipe, that's the truth. You cannot eat more than bit at a time.
It's like, but not exactly, like a fruitcake. Don't panic. I know: fruitcakes are generally disgusting and most could and should serve as bricks. This cake is rich in flavor, moist and very sticky. But it is so rich in flavor. If you look at the ingredients list, it does seem to go on forever. This is one of the most complex cakes you will ever attempt. But this will also be very rewarding.
When to make this? Well, Suzen and I ate this for the Super Bowl. I think a more appropriate time is Thanksgiving. You will, of course, have your pumpkin pie that day. To offset that pie, to contrast and contrast with something exceptional for a festive table, Suzen and I do encourage you to do some shopping, spend some time doing the prep, sample the batter surely, and then watch magic happen.
No one at your table will have a clue how you made this. But you will be asked for the recipe and you'll want to encourage everyone to weave this recipe into their holiday traditions.
Ah, the recipe suggests serving this with ice cream. Suzen has a much better idea: a mixture of rum and confectioner's sugar that is thickly drizzled atop your thin slice. Or, rum ice cream!
---
Banana Black Cake
Yield: 25 portions from this very rich cake
Ingredients:
10 ounces (3 cups) walnuts
10 ounces (1 ½ cups, firmly packed) pitted dates, soft and moist
2 ¼ cups sifted all-purpose flour
1 cup unsifted all-purpose whole wheat flour
¼ cup unsweetened cocoa powder (preferably Dutch-process)
1 teaspoon nutmeg
1 teaspoon allspice
½ teaspoon salt
½ teaspoon cloves
½ teaspoon ground ginger
1 teaspoon cinnamon
8 ounces (2 sticks) unsalted butter
2 teaspoons vanilla extract
1 cup granulated sugar
1 cup light brown sugar, firmly packed
4 large eggs
1 1-pound jar (1 ½ cups) seedless blackberry jam
5 medium-size fully ripened bananas (to make 2 cups, mashed)
2 teaspoons baking soda
⅓ cup buttermilk
5 ounces (1 cup) dark raisins
Optional: confectioners' sugar (to sprinkle over the cake)
Preparation:
Adjust two racks, one (for the cake) one-third up from the bottom of the oven; another (for a shallow pan of water) at the lowest position. Preheat the oven to 300 degrees. Butter a plain (no-design) 10 by 4-inch tube pan (with an 18- to 20-cup capacity), preferably (but not necessarily) with a nonstick finish; butter the pan even if it has a nonstick finish. Line the bottom with a round of baking pan liner paper cut to fit. Butter the paper. Set aside briefly.
To coat the pan with nuts, chop ⅔ cup of the walnuts fine (reserve the remaining 2 ⅓ cups) either in a food processor fitted with the metal chopping blade (process for 7 seconds) or any other way (they must be fine). Turn the nuts into the buttered and lined pan and tilt the pan in all directions to coat it all over (use your fingers to sprinkle the nuts on the tube). Loose nuts should be distributed evenly on the bottom of the pan to make a heavy layer on what will be the top of the cake. Set the pan aside.
Chop the remaining 2 ⅓ cups of nuts less fine; they should be cut into medium-size pieces. Either process them on/off 5 times (5 seconds) or cut them any other way. Set the nuts aside.
Cut the dates into medium-size pieces, cutting each date into 4 or 5 pieces. (If the pieces stick together, place them in a bowl and toss with about a tablespoon of the granulated sugar, to coat and separate them.) Set the dates aside.
Sift together the white flour, whole wheat flour, cocoa, nutmeg, allspice, salt, cloves, ginger, and cinnamon and set aside.
In the large bowl of an electric mixer beat the butter until soft. Beat in the vanilla and both sugars. Then add the eggs one at a time, beating after each addition until it is incorporated. (The mixture will probably appear curdled—it is OK.) Beat in the blackberry jam.
Peel the bananas and place them on a wide, flat plate. Mash them coarse with a fork. Measure 2 cups and beat this into the batter.
In 1-cup measuring cup stir the baking soda into the buttermilk until the baking soda dissolves. Add to the batter and beat well, scraping the sides of the bowl as necessary with a rubber spatula.
On low speed gradually add the sifted dry ingredients, beating until incorporated. Remove the bowl from the mixer.
With a heavy wooden spatula stir in the prepared dates, the nuts, and the raisins.
Turn the mixture into the prepared pan and smooth the top. Cover the top of the pan with a piece of aluminum foil large enough to fold the sides down (heavy-duty foil is best for this).
Place the covered pan in the oven.
Place a shallow pan of hot water on the lowest rack (to keep steam in the oven).
Bake for 1 hour, then remove the aluminum foil and continue to bake for another 1 ½ hours (total baking time is 2 ½ hours) until a cake tester inserted gently in the cake, all the way to the bottom, comes out clean. (During baking the top will crack; it is all right.)
Let the cake stand in the pan for about 20 minutes.
Now, be careful! This cake is so heavy that turning it out of the pan is tricky. First—again—cover the pan with foil large enough to fold down the sides (to keep any loose chopped nuts from flying around) or work over the sink. Cover the cake pan with a rack. Hold the pan and the rack firmly together and—here goes—turn them both over. The cake will immediately fall out of the pan onto the rack; don't be surprised when it does.
Let stand until cool. Chill the cake until cold and firm, then wrap it airtight in a large plastic bag. Refrigerate overnight or for a few days, if you wish.
If you wish, sprinkle the top of the cold cake with confectioners' sugar.
Cut the cake while it is cold into thin thin slices.
Serve plain or with vanilla ice cream.
Photo Information: Canon T2i, EFS 60mm Macro Lens, F/4.5 for 1/40th second at ISO‑3200